The
Gibson Flying V
is an
electric guitar
model first released by
Gibson
in 1958
.� � � � � � � � � � � � � � � � � � � �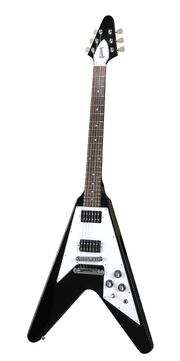 �
� Origins
Edit
Gibson first manufactured prototypes of the guitar in 1957. Production guitars were made of korina wood, a trademarked name for limba, a wood similar to but lighter in color than mahogany. (Korina, originally spelled 'Korena', is the name that has been given to certain types of African Limba.) This Flying V, along with the Futura (Explorer) and, initially, the Moderne, made up a line of modernist guitars designed by Gibson's then-president Ted McCarty. These designs were meant to add a more futuristic aspect to Gibson's image, but they didn't sell well. After the initial launch in 1958, the line was discontinued by 1959. Some instruments were assembled from leftover parts and shipped in 1963, with nickel- rather than gold-plated hardware.
They started out with a mahogany guitar that was rounded in the back instead of being cut out. Gibson and Ted McCarty decided to change the back for weight reduction. The name supposedly has its origins in a comment that the guitar "looks like a flying letter V." Later they changed it to Korina for its then-fashionable blonde color.
Blues-rock guitarist Lonnie Mack and blues guitarist Albert King started using the guitar almost immediately. Later, in the mid-late 1960s, such guitarists as Dave Davies and Jimi Hendrix, in search of a distinctive looking guitar with a powerful sound, also started using Flying Vs. The renewed interest created a demand for Gibson to reissue the model.
Gibson reissued the guitar in mahogany in 1967, updating its design with a bigger, more stylish pickguard, and ditching the original bridge, which had the strings inserted through the back, in favor of the stopbar tail piece more commonly associated with Gibson models. Some models were shipped with a short Vibrola Maestro Tremolo. This 1967 model is now the standard for the Flying V or, as Gibson now calls it, "V Factor". Like other Gibson guitars the Flying V's headstock is angled at 17 degrees to tighten string tension to increase the amount of sustain.
The Flying V used by Marc Bolan, singer and guitarist of glam rock band T. Rex, was sold for 50000-60000 pounds.
During the 70's, the Flying V became progressively associated with heavy metal genre which was growing during that time. Michael Schenker, KK Downing were the main responsibles of this.
Gibson has issued several limited-edition "signature" versions of the Flying V, including the Jimi Hendrix model and the Lonnie Mack model, the latter of which included a Bigsby tailpiece tremolo arm identical to the unit Mack has continuously used on his own Flying V since 1958.
A fully functional, playable, highly enlarged replica of a Gibson Flying V, sizing over 43 feet (13 m), was built in June 2000 by Scott Rippetoe and his team from The Academy of Science and Technology (Texas). This world record is registered in Guinness World Records.[1][2]
Other makers
Edit
Many other guitar companies have copied the Flying V design, most adding "personal touches" to avoid legal entanglements with Gibson. Among these other V's is the Jackson Rhoads model, custom built for Randy Rhoads in 1981 (It was originally to be called the Concorde, but after Rhoads' death it was named as tribute). As the very first Jackson guitar and colloquially known as the "Shark Fin", it featured an asymmetrical cut among other differences from Gibson's. Following the Rhoads model, Jackson produced another V variation for Ratt guitarist Robbin Crosby and marketed it as the King V. Other popular V shaped guitars are the B.C. Rich Kerry King V, Jr. V, and Draco Models. Other manufacturers, such as Cort, Antares, and Ibanez, produced clones so close to the original Gibson design that they were reportedly the target of legal action by Gibson.[citation needed]
In 1981, Gibson produced a four-string bass version of the Flying V. Only 375 were produced, most of them black but a few in alpine white, silverburst, or transparent blue. Epiphone also currently makes V shaped basses.
Community content is available under
CC-BY-SA
unless otherwise noted.